The construction of LGBT+ identities as deviant: an analysis of the (re)pathologization of homosexuality in Brazil
Keywords:
Deviation. LGBT . Gay cure. Pathologization. Sexuality. Evangelical people.
Abstract
The aim of this article was to understand, from the sociology of deviation, the processes of (re)pathologization of homosexualities in Brazil, present in the event "gay cure". Data were collected through bibliographic research and materials published in digital media. The construction of the concept of deviation is discussed, in the light of Howard Becker's theoretical framework, seeking to identify how such a conceptual apparatus can explain homosexuality as a deviant category. Ahead, it reflects on the distinction between the concepts of sex and sexuality, in order to understand their historical expressions in the construction of sexual identities and in the medical and social discourses of pathologization of homosexualities. Within this view, it addresses how pathological theories were built about LGBT + identities, and how this reality permeates the Brazilian history and experience of struggles of LGBT + movements. In this perspective, it points out how the reactions to the (re) pathologization discourse in Brazil were, evidencing the event popularly known as "gay cure". Finally, it shows how all these situations contributed to a marginal look at LGBT + identities, with the reaffirmation of prejudices about them. It is argued that the idea of ​​"gay healing" is a hybrid of religious, moral, social, cultural, political discourses, armed against LGBT + identities; despite reactively triggering processes of resistance and strengthening of individuals and LGBT + movements. The label of deviants attributed to homosexuals engenders their reaction in not accepting such a mistake, organizing themselves in social groups that demarcate and build the constant criticism of the imposed labels.
Downloads
Download data is not yet available.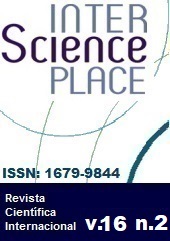 Downloads
How to Cite
Jeferson Neri da Silva, Valderí de Castro Alcântara, Alyce Cardoso Campos, Ananda Silveira Bacelar, & Frederico Humberto de Oliveira. (2021). The construction of LGBT+ identities as deviant: an analysis of the (re)pathologization of homosexuality in Brazil. InterSciencePlace, 16(2). Retrieved from http://interscienceplace.org/index.php/isp/article/view/41
License
This work is licensed under a Creative Commons Attribution 4.0 International License.