HEALTH TRANSVERSALITY AND POLICY INTEGRATION: EFFECTIVENESS, GOVERNANCE AND DEVELOPMENT
Keywords:
transversality of health; policy integration; policy effectiveness; governance; development.
Abstract
The contemporary challenges for the survival of the next generations involve the confrontation of social problems by the State, which directly affect the development process in the world, as well as having an impact on people's lives. This article analyzes how the transversality of health policy can contribute to the process of integrating policies considering the State's performance, as a strategic actor, under the cooperative point of view, in the construction of collective solutions with society for development. The methodological construct is initially anchored in the integrative review method, in the light of Ganong's teachings, the results being guided by the content analysis of Triviños and supported by the theory of Granoveter ties, in view of the existing correlations among different policies contained in the scientific productions during the period of 2015 and 2020. The evidenced results point to the following characteristics of health policy: 1. High degree of policy integration, from the perspective of its transversality; and 2. Contribution to the policy design process, in the sense of greater policy effectiveness, given the possibility of increasing precision in the targeting and hitting process. The health transversality was presented as an approach capable of contributing to governance processes, starting from the generation of inputs to subsidize ex-ante decision making, helping to reduce uncertainties for the dimensioning of solutions, considering life as a human condition as focus of policy formulation for development.
Downloads
Download data is not yet available.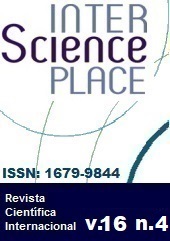 Downloads
How to Cite
Edward Torres Maia, Magda de Lima Lúcio, Wagner de Jesus Martins, & Brainard Guy Peters. (2022). HEALTH TRANSVERSALITY AND POLICY INTEGRATION: EFFECTIVENESS, GOVERNANCE AND DEVELOPMENT. InterSciencePlace, 16(4). Retrieved from http://interscienceplace.org/index.php/isp/article/view/82
License
This work is licensed under a Creative Commons Attribution 4.0 International License.